Exactly as happened last year for "The road to The Fall Classic", even this year Team NINJA will support the competitive scene of our favorite fighting series, but making the things even more in great style with the
"Battle Royal 2015"

Along all the 2015 not only the main tournaments seeing DoA5LR will be supported from pot bonus, but all of them will work also as a big qualification road for "The Grand Finals" of the NEC XVI in December: this for some of such tourneys through a direct sponsorship to the Finals for the 1st ranked player, for others with a system of points for the 1st and 2nd ranked that will reward in the end the competitors with the higher score. See the picture below for more details: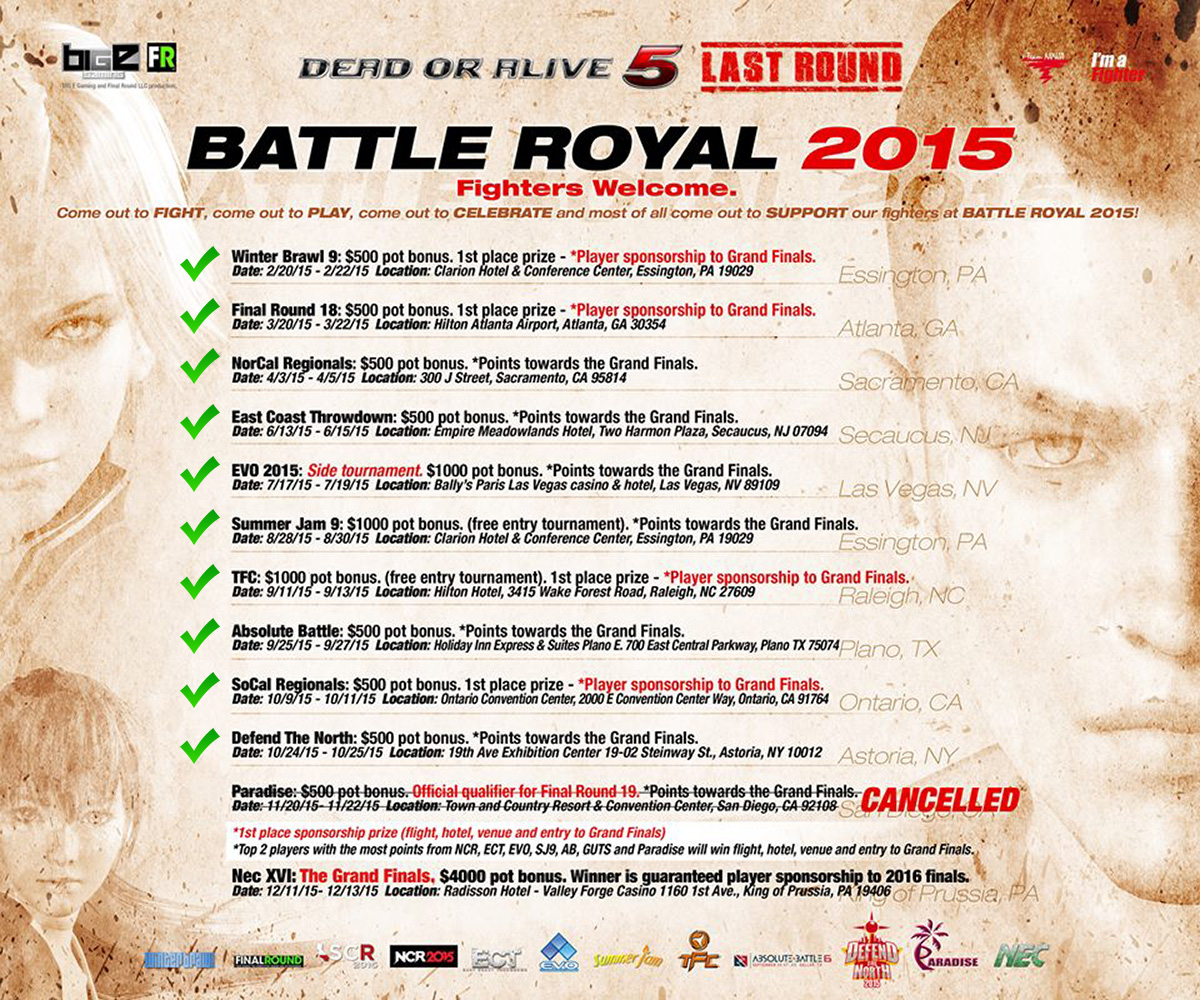 With the sure entry of all the most succefull players of the year and a 3000$ pot bonus, NEC XVI could really foreshadow the showing of the best that the competitive side of DoA5LR has to offer. More, the tournament schedule already state as the absolute winner will see his direct partecipation to the 2016 finals, hinting that we could attend to the same support from the developers even for the next year.
After the recent video tutorials, this is without doubt another great initiative from Team NINJA for supporting the fighting side of the series. Now remain only to wish good luck to all the DoA Fighters out there: TN made their move with "Battle Royal 2015", now it's your turn to partecipate and give to the series the popolarity that deserves.
Source:
http://teamninja-studio.com/doa5/lastround/us/battleroyal2015.html
[Under the tournament schedule it's visibile a summary that will be updated in future through the inclusion of the names and faces of the actual winners of the 11 tournaments, plus the final one from NEC XVI]
Last edited: