​
Team NINJA is now opening registration for their EVO partnered event
that will not only close out DOA5's official long-lasting tournament presence, but will introduce the community and gamers across the world to the spectacle that is Dead or Alive 6. After months of dry news and a shorter battle royal, players started getting burnt out on Last Round, but Team NINJA has once again rejuvenated the community and FGC with free entry to the event; plus exciting and new possibilities. Remember the 256 player cap before procrastinating, will you be there?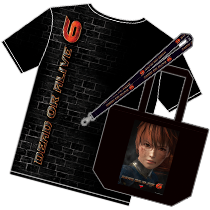 Limited and Exclusive Event Merch
​
There are some important notices from the owner of FSD,
@Mr. Wah
that you should consider for the Last Round tournament: Payout will be granted to Top 8, and all you will need to get into
EVO is the event pass itself
with the five-cent BYOC fee. With game related rules: DANGER ZONE, DOJO and ATTACK ON TITAN stages are banned along with controller converters.
Another place you want to pay close attention to is
Team NINJA's Official Dead or Alive 6 Website
. This website has a lot of information for the tournament and the game. It also lists the prize pot and that's over 5,000 USD -- not bad for a free event, eh?
A big attraction to this event is that Dead or Alive 6 will be playable for anyone attending. While the game itself has been
met with E3 awards and praise from many publications
, controversy has also been evident with DOA's fanbase. DOA has always been a fun series since its start in the 90s, and now you have a real chance for some hands on time so you can legitimately share how you feel about the sixth installment.
Last edited: