Team NINJA has released
Version 1.13 Patch Notes
for all platforms at their official website and have launched Season 3 with Halloween-themed Witch costumes exclusive to the female cast. The Season 3 Pass is priced at 79.99 USD and will include additional costumes from now through December. One additional character will be added in December, wildly believed to be Rachel who was found in the database by expert DOA modder,
@gatto tom
.
The bizarrely structured menu of
Dead or Alive 6
is slightly improved in Version 1.13 as you can now quickly access your Wardrobe at DOA Central, but it's also one of the many ways costumes are advertised through individual purchase. Version 1.12 added one additional store link to the left panel of the main menu, and the news box on the top-right is easily the better view, but sends you to the exact same store page as the link regardless of what costume pack screenshot you are on. The main menu currently hosts five options that position you to buy costume DLC, and it's not only annoying, but clutters the main menu with the same exact result.
A competitive & dedicated player may ask:
"Why are tournament results no longer present at the welcome screen like Dead or Alive 5?"
or
"Are costumes a higher priority to Team NINJA even though DOA6 was primarily advertised to be an e-Sport fighter?
These questions were not answered with Version 1.13.
Team NINJA's
Dead or Alive 6 World Championship
has been a success in many different ways, but wouldn't they benefit from better event turnouts if the news box on the main menu featured tournament reminders? This would literally expose every returning player to their world championship, it could also help promote their less advertised online tournaments.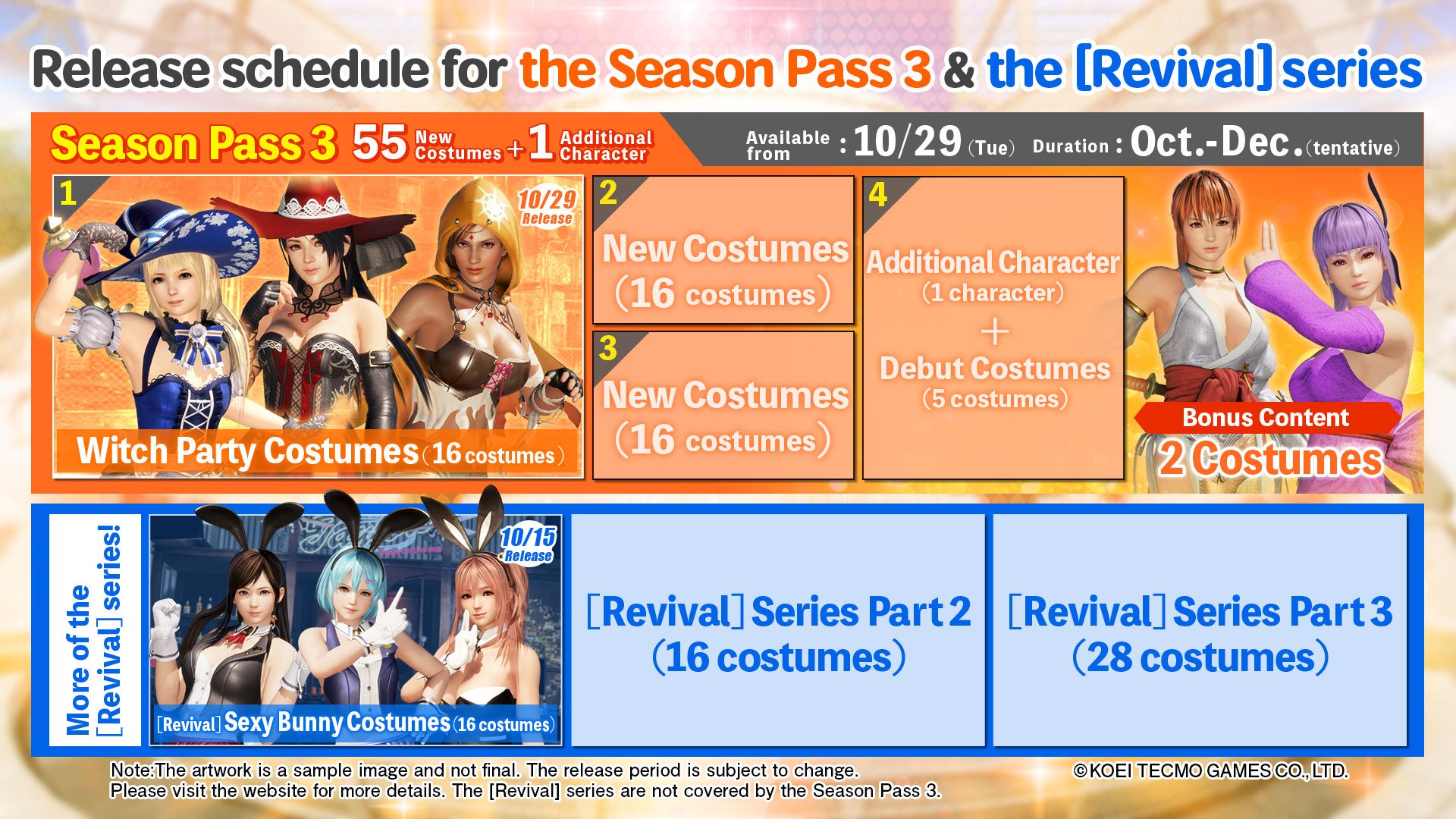 Since the fighting itself is the most important part of DOA6 you would hope for some exciting tweaks, but not many are present in Version 1.13. The loading times were improved for lower performing PCs, PS4 (excluding Pro) and XBOX ONE (excluding XBOX ONE X). This is a welcomed improvement for tournaments as long loading times can completely destroy the momentum of a great set.
There are a few good character fixes: Helena can lift higher with her second air hit of the
button, Raidou can get low wall damage from his 61234T in the air and Bass & Tina's swinging air throws were fixed to count damage correctly. Marie Rose has received a nerf despite being regarded as one of the weakest characters in DOA6, and Kula Diamond wasn't even slapped on the wrist after absolutely dominating more than one DOA6WC grand final. 1.13 adds a lot of modifications for the timing of damage, or adjustments to the design of a specific move, and doesn't provide a lot of exciting benefits to the cast's current move-pool.
Now what does "The timing of damage" actually imply for the selected moves? DOA professional and the creator of FSD,
@Matt Ponton
gives us some insight on the subject:
Answer: The frame the damage is calculated. For Bass' case in Version 1.13, Team NINJA made it so when he does his air throw into a red barrel on 'Forbidden Fortune' that it actually does damage now. Before, you'd only get the 10 points of wall damage and none of the air throw itself. Bug still exists for his 1H on low kicks into the red barrels though.
Version 1.13 is mostly an underwhelming release, and while DOA6 continues to be touched up regularly, it is taking
a while
to get anywhere with the game in a time where players are desiring big moves from Team NINJA. Hopefully we will see Version 1.14 before the
Dead or Alive Festival
& the Main Event in Tokyo, Japan. Do no expect to see the new character for SP3 anytime soon as Momiji was showcased only two weeks before her SP2 release.
Front Page Banner by @KasumiLover
Last edited: